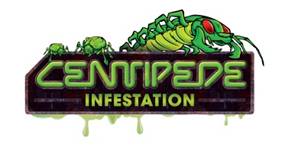 Atari have released the trailer for a reimagining of an old classic, Centipede: Infestation which is due to come out on 3DS and Wii.
Centipede: Infestation is basically like playing a pest control person on crack. The bugs are big and mutated, the guns are huge and awesome, and the garden you're defending is meant to revitalise the planet. I think if this were a reality for pest control people, there would be a lot more people vying for the job. Your pest control guy's name is Max, and he is trying to defend Maisy's magical garden, armed with over 20 different weapons that all are in the caliber of Nuke Cannons and Mine Launchers.
The game is set to have 7 environments, 40 stages and 5 boss battles. I can only imagine what weird and wonderful creatures will slither out, given that there are more than 20 different types of bugs just salivating for Maisy's garden. There is 2 player co-op mode, as well as street pass for 3DS.
Keep an eye out for this one folks, it looks like some good ol' fashioned Atari fun.