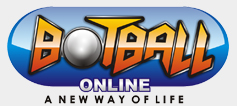 Sm4rt Game Studies unleashes their BETA of Botball Online and Botball Adventure. Botball Adventure is the Facebook version of the game and follows a storyline for level development and bot customization.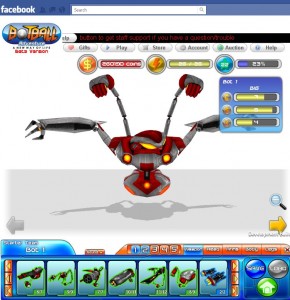 You start with a series of five bots which are available in your garage. By leveling up and achieving containers, you attain new parts to equip your bots. With an automated battlefield, leveling up because relatively easy – especially for low levels. However, this allows a player progress through the storyline at a fast rate.
In each mode, players can control five bots. Each bot can be customized and utilized by the player's choosing. More aggressive players may choose to develop a full attack group that relies on the destruction of the opposing team. The point of the game is to make goals using your customized bots. Since the gameplay on Facebook is automated, it is hard to tell how to develop your group effectively.
Botball Online takes the gameplay a step further. This mode allows the player to actually participate in the game know as Botball. Playing the game in this mode gives the user a grander understanding of the game mechanics and luck of the gameplay. Sometimes going straight for the goal is the best option.
Join the BETA and win your way to an official Botball sponsorship. Total prizes will be a minimum of $40,000 for the elite players.
Check out Botball on Facebook: (HERE)
[nggallery id=365]