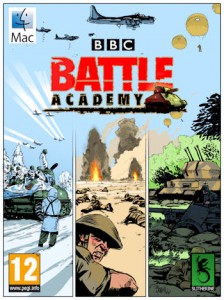 Realistic and absorbing turn-based strategy game, Battle Academy, has made it onto the Mac after the game's developers (Slitherine Ltd) have tweaked the specs to make it compatible across the board. The game is now seamlessly multi-platform across computers, allowing multiplayer as well as save games to be transferred between the two operating systems without issue. As Macs are quickly gaining a larger market share, this move was probably quite intelligent on the Slitherine's part.
Battle Academy is an incredibly realistic WW2 strategy game, developed in accordance with the exact requirements of each side as provided by a military historian. With three epic campaigns and multiple units and nations the game encompasses an incredible amount of detail (which was always to be expected from a BBC game).
On top of this, a brand new add-on has been released for both PC and Mac, Battle Academy: Operation Market Garden with eight brand new single player missions, four multiplayer maps and the introduction of campaign mode. The add-on comes at the requirements and concerns of players, Slitherine listening and adapting to the needs of players, which is always nice to see.
For more information and a place to buy the game go here.
Still not convinced? Well you can download the game demo.
Windows demo
Mac demo