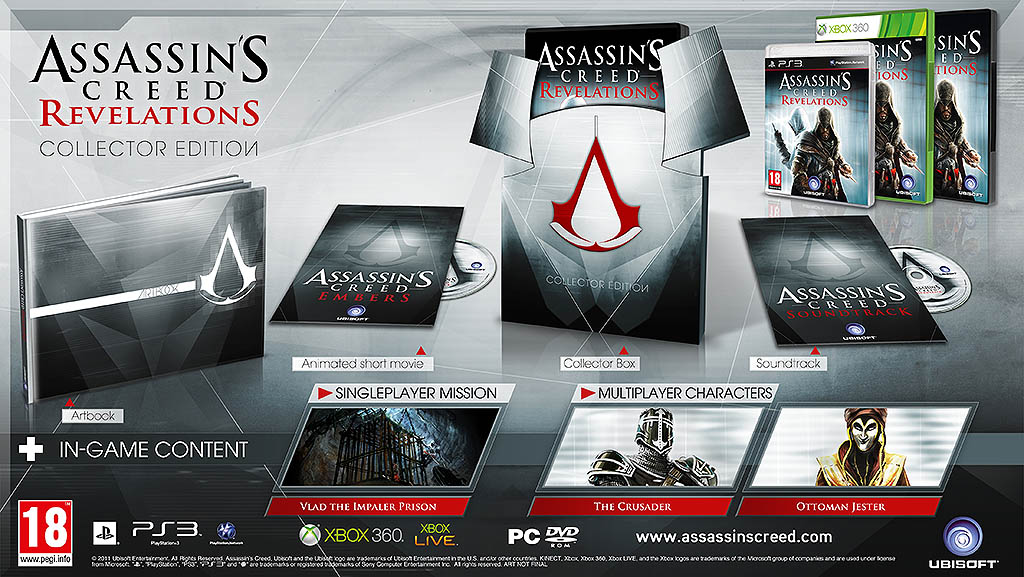 Ubisoft have unveiled an unboxing video for the Collector Edition of Assassin's Creed Revelations.  Along with the latest adventures of Ezio Auditore da Firenze (solely responsible for the little Italian I know), players who hand over the extra cash for the Collector Edition can look forward to the following bonuses:
CD copy of the game soundtrack

Assassin's Creed Revelations Artbook – 50 pages with full colour illustrations and concept art

Assassin's Creed Embers – a 21 minute animated short film further chronicling the life of Ezio

Bonus single player mission – explore Vlad the Impaler's secret prison in Constantinople

2 bonus multiplayer characters – take to the streets as the Crusader and the Ottoman Jester
Of course no special edition would be complete without an overly fancy box, and Revelations is no exception. All of the above will be packed into a shiny silver number, complete with assassin seal. The game is coming in no less than SEVEN different packages (Animus, Collector, Special, Signature, Templar Collector, Ultimate bundle, and finally -normal), and will silently creep into stores November 15, 2011.