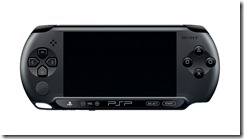 For the tech junkie who was worried that the Playstation Vita would be less powerful than previously mentioned, then never fear. During their Gamescom conference, Sony confirmed that the Vita will sport 512MB of RAM with an extra 128MB of dedicated VRAM. Well, it will certaintly live up its name as the portable powerhouse.
Sony has also revealed the camera specifications. Both front and rear cameras will have a resolution of 640×480 (VGA), with framerates of 120 per second at 320×240 (QVGA) or 60 per second at 640×480 (VGA), just in case you would like to video record with the handheld.
In PSP news, Sony will be releasing a 'value' PSP for those who don't have the money to buy one. It will cost 99 euros and will lack Wi-Fi. It will be released in autumn and has the model number PSPE – 1000. Check it out below.