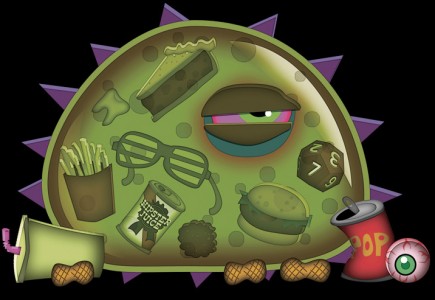 The ever-growing Playstation Vita library can add another title as Canadian studio DrinkBox Studios have announced their second title will debut on Sony's new handheld. Entitled Tales From Space: Mutant Blobs Attack!, this is a sequel for their debut game, Tales from Space: About a Blob, which is available on the Playstation Network. Players will take control a new Blob character through new levels and experience new controls and new powers.
Here is what DrinkBox Designer Chris McQuinn had to say:
"The control systems available on the PlayStation®Vita have allowed us to experiment with all kinds of new gameplay possibilities. We're finding that touch controls in particular can be used to complement traditional thumb-stick puzzle-platforming very well. We learned a lot developing our first game – we want to use that experience to deliver the best game we can in Mutant Blobs Attack."
The game will be a downloadable only title and will target the North American Vita launch for their release date. The game does sound interesting. I now want to see what the game looks like and how it plays. I might get the chance to, as well as everyone else, as the game will make its debut at PAX 2011.