Madman is great at providing us with homegrown Aussie flicks, and September will see the release of another great one. Justin Kurzel's film debut, Snowtown, will be releasing on September 21, 2011.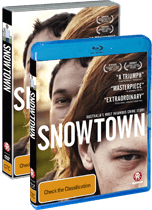 The film is based on the Snowtown murders, where eight bodies were found in acid barrels in a former bank building in Snowtown, SA. The number of people murdered eventually reached 11 over the course of a decade, and a man by the name of John Bunting was arrested as the lead conspirator in the gruesome crime.
However, Snowtown the movie takes a different approach. Instead of simply following Bunting's life, it instead looks at it from the point-of-view of Jamie Vlasskis – a teenager who lives with his mother and two younger brothers in a housing community in Adelaide. When he is introduced to his mother's new boyfriend, John Bunting, they immediately become friends. Little does Jamie know, though, that this man is responsible for Australia's worst serial killings.
The DVD will contain special features, including audio commentary with the director, deleted scenes, an interview with the director, and original casting footage. Snowtown will be available on DVD for $34.95 and Blu-ray for $39.95.