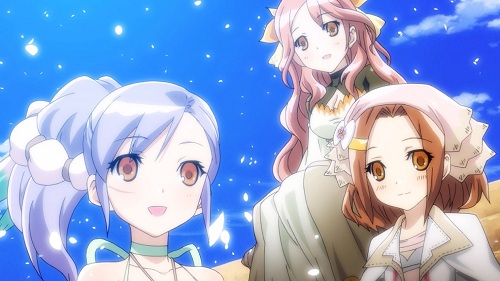 Those girls up there sure look happy, and they have and good reason to be, because Natsume has announced that the game they are in, Rune Factory: Tides of Destiny has officially received its release date. The even better news is that it won't even be that long until the game comes out, as the release date in North America is September 27th.
This announcement did much more than just reveal a release date however, it also released some new information about the English localization. Aden and Sonja are the official names of the playable characters, though you can re-name them if you wish. The game will have 30 different islands that can be explored and each has different seasons apart from one another, and players will traverse between islands with by riding on a giant rock monster named Ymir. Hiro Maekawa, President and CEO of Natsume says that the "ocean setting will have players adventuring for hours, and the great characters will really help pull them into the world" which sounds exactly like what fans of the Rune Factory series are looking for.
Also released alongside this announcement was a whole slew of new gameplay screenshots for the game which you can see below. The first half of the screenshots are for the PlayStation 3 version of the title and the second half are for the Wii version.
[nggallery id=353]