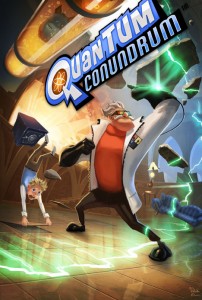 This year at PAX 2011, dimensions were shifted and heavy safes were lifted! That's right, Quantum Conundrum, the innovative puzzle game from the co-creator of Portal, Kim Swift, was on display for the attendees of the event.
Those in attendence got a chance to check out Quantum Conundrum's innovative dimension shifting gameplay mechanics. Which may sound somewhat reminiscent of Portal, both in concept and design.
However the puzzles here aren't as simple as placing a portal in the right position. The puzzles on show here require you to swich through multiple dimensions such as the "Zero Gravity Dimension", "Slow-Mo Dimension", "Fluffy Dimension" and many more, in order to complete levels. Sometimes requiring the player to use multiple dimensions in rapid succession, which the developers are saying is rather tricky and takes some serious brain-power.
Quantum Conundrum is slated for a release sometime early next year on the Xbox Live Arcade, Playstation Network and Steam. So until then keep you eyes on this dimension!
What do you think of Quantum Conundrum's unique gameplay mechanics? Leave a comment below letting us know.