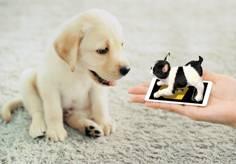 Nintendo of Australia are ready to go the dogs, quite literally in this case. Why am I saying this? Nintendo have recently announced that they will be in Sydney for the first ever first ever 'Pup-Up' store, where Australia's finest award-winning dogs will be in attendance. This free event will consist of Sydneysiders getting tips on dog obedience, dog grooming and pet photography, and since the big N will be present, visitors will also get to try out Nintendogs + Cats for the 3DS.
These dogs will also be displaying tricks for the audience as well as taking photos via the AR card system on the 3DS, which will allow for each pup to get their photo-op in 3D with Nintendo's pixelated alternatives. Acclaimed Sydney Psychologist Victoria Kasunic will also be at the doggy display to comment on pet research along with Redbird Photography, who will be on hand to detail the profession of snapping proper pictures of your pooch and inform the audience about pet shelters.
So how can you get in on this action? Just head to the Customs House Square on August 25th (which is this Thursday), starting at 10 AM. Make sure you bring your 3DS as well if you own one, as this is sure to be a great Streetpass opportunity.