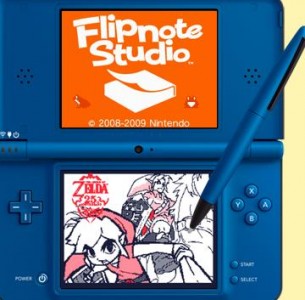 If you own a DSi or DSiXL, you may have toyed around with Flipnote Studio before. If not, the program is a miniature animation studio where players can unleash their creative side by making small cartoons or animations and then share them with the world via Wi-Fi. Nintendo may not have included the free downloadable service on the 3DS, but they are still very aware of it's existence and will be holding a competition for users based on the 25th anniversary of The Legend of Zelda.
As you would expect, this contest of sorts will have owners of Flipnote Studio create a Legend of Zelda flipnote using one of three different templates. To make things interesting, some of the biggest names that have worked on the series will be judging all the entries. Those names include the likes of Shigeru Miyamoto, Takashi Tezuka, Eiji Aonuma and Yoshiaki Koizumi. Winning Flipnotes will be published on the 25th Anniversary website for The Legend of Zelda, the Nintendo Channel on the Wii, and the Flipnote Hatena on Nintendo DSi and Nintendo DSi XL systems for the entire world to view.
Those interested in getting their artist on for this competition can check out the official rule list at http://www.zelda.com/25th/flipnote.