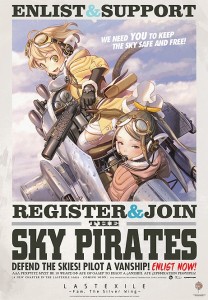 It's a huge year for Gonzo Studios, being there 20th Anniversary. To commerate such a huge milestone, they are set to release LAST EXILE: Fam, The Silver Wing. The new series will be the next installment in the LAST EXILE franchise. Today a trailer has hit the web to promote the series.
There is a lot of hype surrounding LAST EXILE: Fam, The Silver Wing. Alot of which is due to the fact that the series is premiering twice outside of Japan. The first of which was at Anime Expo 2011, in conjunction with Funimation Entertainment. The second is set to be screened at the Manifest 2011 Convention in Melbourne, Australia later this month. Both of which are more than a month before the series even hits Japanese shores.
You can check out the hotly anticipated series in the trailer below. Also leave a comment letting us know what you think.