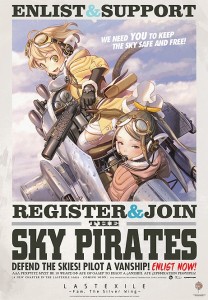 With the upcoming premiere of the new Last Exile series Last Exile: Fam, The Silver Wing it has been announced that a Last Exile TV special will air a week before the new series.
The TV special is set to detail the history of the Last Exile franchise, give an in-depth look at the world of Last Exile: Fam, The Silver Wing as well as featuring interviews with the cast and creators.
The special will be airing on the 7th of October, 2011 in Japan. The series was also recently licensed for release throughout the United States by Funimation Entertainment and licensed for Australian distribution by Madman Entertainment. Alongisde being licensed both Funimation and Madman held premieres of the first episodes in their respective countries.
Please leave a comment below letting us know what you think of the Last Exile TV Special.