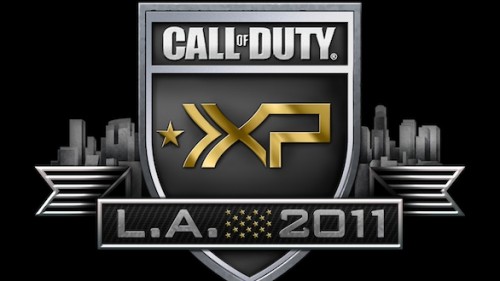 Activision has revealed a ton of new info on their upcoming event for Call of Duty. Call of Duty XP has several astounding events that will appeal to the hardest of the hardcore who play Call of Duty videogames.
First off at the event, there will be a 32 slot, single elimination $1 million tournament. This tournament will be played with Modern Warfare 3 on the Xbox 360. Currently, players are competing for spots in the tournament by playing Black Ops on XBL.
In addition, attendees can play other Call of Duty titles like Modern Warfare 2, Black Ops and Modern Warfare 3. Any person who is present at the event will also be getting a code for a free copy of the Hardened Edition of Modern Warfare 3.
Furthermore, there will be a "sneak peek of the new, original programming under development exclusively for Call of Duty Elite members. First up is a collaboration with dumbdumb, the production company led by Will Arnett and Jason Bateman in partnership with Ben Silverman's Electus Studio. Arnett is scheduled to attend the inaugural XP event not only to share a preview of the all-new content series in production, but also to be among the first to play Modern Warfare 3."
There is also a "Modern Warfare-inspired live-action short by We Can Pretend, the Toronto-based creative team behind this year's fan-favourite flick Find Makarov, and the next installment of Pro vs. G.I. Joe, where celebrities and gamers face-off against U.S. troops deployed abroad via Xbox LIVE."
If you pony up the $150 dollars and go to Call of Duty XP, you also get the following:
· A once-in-a-lifetime chance to paintball firefight across a life-size replica of Modern Warfare 2's Scrapyard level.
· The opportunity to speed-run the infamous Modern Warfare 2 The Pit training sequence, for real.
· A military-style zip-line plunge across the Call of Duty XP compound.
· Suiting up for one-on-one battle in Juggernaut Sumo.
· Rations and refreshment for sale at Modern Warfare's 2 iconic Burgertown fast food joint.
· A comprehensive Call of Duty armory and museum, featuring concept art and unique memorabilia from the entire franchise.
You can buy tickets to the event now. For more info, check out CallofDuty.com/XP. 100% of the profits from the event will go to the non-profit organization, the Call of Duty Endowment.