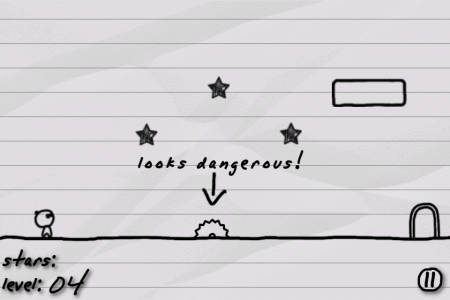 Pezzini Games have introduced a free update for their game 'His Adventure' for iOS devices. This new update addresses a few issues we found in our review of the game, so it's a very welcome update! The update includes the following new additions:
-Short tutorial on basics.
-New control types for those with different tastes. (found in options)
-Corrected difficulty issues on some levels.
'His Adventure' is one of the most challenging games I've played in a while so Im glad to hear it's a little easier now! The most interesting update however is the inclusion of a new control scheme. In the options menu, players now get a choice. There is 'Normal' where the platform only follows just your finger so you can see it, and will jump to where ever you touch, and the 'relative' option, where the platform will move relative to where your fingers position on the screen. A rather interesting update, that dramatically changes the game play! Everyone who has 'His Adventure' should definitely check it out!