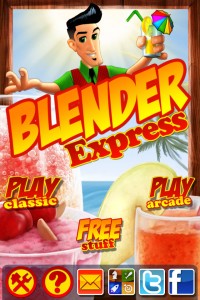 Coming soon to an App Store near you, a delicious blend of smoothie-ness! Happy Day Games announces their newest creation, Blender Express. This game takes blending to the EXTREME!!! Yes, the extra exclamation points are necessary. Blender Express prepares you to create the perfect blend of fruits to master the best smoothie recipes.
By collecting falling fruit, you're able to add the ingredients to your all-mighty blending machine. Happy Day Games promises over 100 levels of addicting gameplay and even real smoothie recipes to feed your blending needs.
To all you males out there, blending is a male sport too! Put on your apron, grab your iOS device, and get ready to blend your way to the leaderboards.
Blender Express will be available at the App Store for iPad, iPhone, and iPod touch. But for now check out their website (HERE).