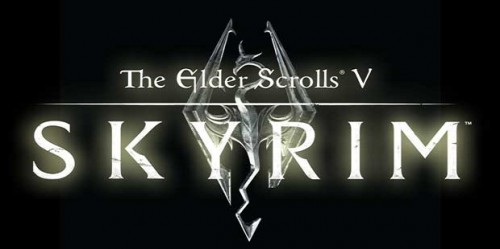 RPG giant Bethesda is allegedly suing Minecraft developer Mojang over the use of just one word – "Scrolls". You can probably guess where this is heading, given that The Elder Scrolls: Oblivion, is currently enjoying its fifth anniversary release, and it's follow up, Skyrim, is gathering hype at near light speed.
The title of Mojang's next project, the developer had filed an application to trademark "Scrolls" after doing the same for the already established Minecraft.  A few days ago, one of Minecraft's creators, Markus 'Notch' Persson, tweeted this to the world:
"Just got a letter from Bethesta's lawyers. They claim "Scrolls" infringes on their trademark and everyone will confuse it with Skyrim."
Later in the day a more detailed post appeared on Persson's blog, revealing more of what was contained in that 15 page letter.  In addition to ordering that Mojang stop using the "Scrolls" name, Bethesda has also demanded a "pile of money" from the company, even before legal action begins.  This at the moment is coming from Notch alone, with no word from Bethesda.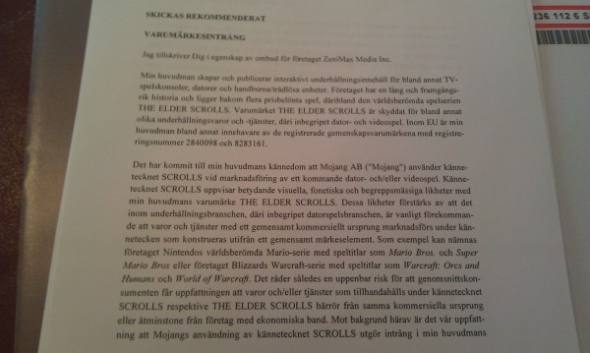 However, a picture of the first page of the letter has surfaced, with the words "Elder Scrolls" and "Scrolls" clearly visible amongst the Swedish. Some resourceful soul has even managed to provide a rough translation of the document, which you can see here.
One interesting line (in very crumbly English) goes – "There is thus an obvious risk of an average consumer to get the idea that the goods and / or services provided under the sign SCROLL and The Elder Scrolls are from the same commercial origin or at least from economically-linked undertaking."

In his blog Notch takes an optimistic view that the letter is something of an 'automated response' from Bethesda's legal team, and hopefully not coming from the mouths of the developers themselves. He even interviewed Bethesda's game Director, Todd Howard, at E3 this year, so surely there is hope for the Minecraft team.
So are you an 'average consumer' just waiting to be confused by a game called "Scrolls" not being the same thing as the Elder Scrolls?  Have a look at the logos below, does Bethesda have a point? Does Minecraft have to watch out for Minesweeper?
Time will tell!