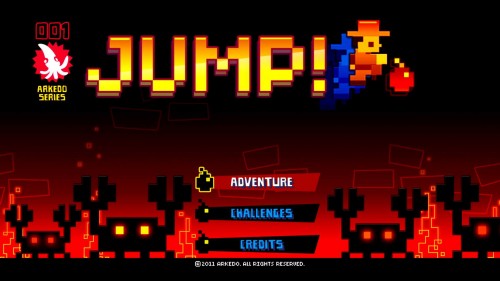 Arkedo and Sanuk Games are proud to announce that "01 – JUMP!", the first installment of the critically acclaimed ARKEDO SERIES, will be available in Europe on August 24th for only €1.99 / £1.74.
Douse your console in a colorful world and get ready for some serious old-school action! In this tightly crafted 2D platformer, your 8-bit hero must collect bombs before they blow up, while avoiding nasty little bats, 2-way powered crabs, sharp stalactites, spikes from hell, and a bunch of other oddities.
The game is so truthful to the old-school experience that it has no 'continue': once you've lost all your lives, you have to start it all over again – but in a good mood!
Initially published on XBox Live Indy Games as a "one game per month" experiment, the ARKEDO SERIES got scores of enthusiastic reviews. Jamie Davies from console-arcade.com called "01 – JUMP!" a "colorful and highly entertaining platformer that's crammed with charm", while Brandon Daiker of n-sider.com felt like he would best describe it as a "fistful of Altoids stuffed straight up your ass".
The two other games, "02 – SWAP!" and "03 – PIXEL!", will have their release dates announced shortly.
About Arkedo
"01 – JUMP!" has been created by Arkedo, a Paris-based studio comprised of eight game developers, and focused on making arcade games with a twist. Founded in early 2006, the studio's award-winning DS titles (Nervous Brickdown, Big Bang Mini) were well received by the public and the press. Arkedo's secret plan to rule the world is a weird combination of trying to make cool games, cooking great food, and being generally nice to everyone – except SouthPeak. It is with genuine astonishment we can announce that this silly plan is currently working.
About Sanuk Games
"01 – JUMP!" is ported and published on PlayStation® 3 by Sanuk Games, a prolific casual game studio. From its Bangkok-based sweatshop, Sanuk Games churned out over 50 games in the past couple of years. Among Sanuk Games' recent releases on PlayStation® consoles are Spot The Differences, Hysteria Project, Actual Crimes: Jack The Ripper, Twin Blades, Pix'n Love Rush, 3D Twist & Match, Drums Challenge and Hysteria Project 2.
Check out some of the screenshots, as well as a video, below.