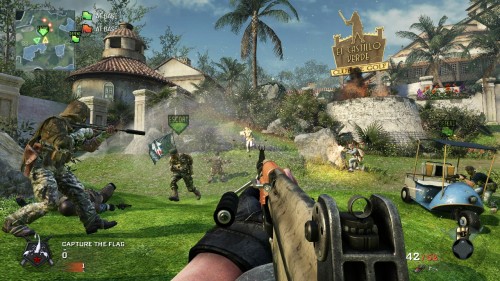 Earlier today, Activision, released its line-up of games being showcased at this years GamesCom in Cologne. The event is to take place between the 17th and 21st of August and Activison will be in attendance at booths B20 and B30 in Hall 6.
The titles being showcased at these booths are as follows –
Call of Duty®: Modern Warfare® 3, the most anticipated game of 2011, will bring gamescom attendees one step closer to its highly anticipated worldwide release this 8th November, as fans go hands-on in Special Ops survival co-op mode.
Call of Duty Elite, the innovative new digital community service built expressly for the 30-million strong Call of Duty® fanbase, which will launch this year with Call of Duty: Modern Warfare 3.  Gamescom fans will get a sneak preview of the new social gaming platform, which offers fans an unrivalled experience by providing 'always on' data transfer communications between the service and Call of Duty® from anywhere, anytime via mobile, tablet, web or inside the game itself.
PROTOTYPE® 2, the sequel to Radical Entertainment's best-selling 2009 open-world action video game that continues the experience of becoming a deadly shape-shifting weapon, this time following the game's all-new
protagonist Sgt. James Heller as he pursues his ultimate goal – to destroy Alex Mercer!
GoldenEye 007TM: Reloaded will make its grand debut on the PlayStation®3 computer entertainment system and Xbox 360® video game and entertainment system for Microsoft for the first time ever.  Built on a brand new engine that delivers striking visuals, blistering fast gameplay and the ability to play using the PlayStation®Move with Sharp Shooter peripheral, it is the complete James Bond experience shooter-fans have been waiting for.
In addition to having playable versions of those games available; Activison will be holding a Call of Duty tournament for teams of four from the 18th of August until the 20th of August. It will be held on Hall 6, Booth 20 and the winning teams will be given a chance at an all-expenses paid trip to Call of Duty XP 1 Million Tournament, as sponsored by Xbox 360.
Activision will also be showcasing some of their other titles at the Business Centre, Hall 5.2 Booth Number H21/31 for retailers and media at the event. They are as follows –
Skylanders Spyro's AdventureTM – An innovative breakthrough for the videogame and toy industries, Skylanders Spyro's Adventure lets players bring their toys to life through an inventive Portal of Power™
that transports real-world toys into a virtual world of adventure.  The game introduces a collectable play experience, that lets kids choose from 30 different Skylanders, each with their own unique and expressive personalities.  These "toys with brains" come to life inside the game across multiple gaming platforms, as well as on handheld gaming devices, mobile devices and on the web, remembering achievements and level-ups wherever they go.  (Developed by Toys for Bob; Wii™ and Nintendo 3DS™, Xbox 360, PlayStation®3 computer entertainment system, Windows PC, mobile devices; not yet rated by the PEGI). 

Spider-Man™: Edge of Time – Playing the roles of The Amazing Spider-Man and Spider-Man 2099, Spider-Man: Edge of Time propels gamers on a high-octane, adrenaline-fuelled adventure in which the two versions of the heroic web-slinger must urgently work together across time to save each other and prevent a disaster that ultimately leads to the death of The Amazing Spider-Man.  Against the backdrop of a rich, tightly crafted narrative by acclaimed Marvel veteran Peter David, the game features two individual timelines evolving in parallel and narratively-driven "cause-and-effect" moments, uniquely utilising "picture-in-picture" moments where the actions of one Spider-Man have immediate effects on the other Spider-Man and his surroundings.  For more information, please visit www.facebook.com/HeroHQ.
(Developed by Beenox for Xbox 360, PlayStation®3 system, Wii, and Nintendo 3DS™; developed by Other Ocean for Nintendo DS™; not yet rated by the PEGI.)

X-Men™ Destiny – In X-Men Destiny, players control the fate of one of three brand-new mutant characters forced to choose between saving humanity or ensuring its destruction. The game allows players to customise the path, powers and development of their character and to decide their role in the mutant cause alongside, or against, some of Marvel's greatest X-Men franchise characters. Gamers will evolve their mutant skills through a unique upgrade system that allows them to choose how they will mix and match the powers from their favourite X-Men and Brotherhood characters, then engage in fast and furious combat against a variety of opponents bent on defending their beliefs.  For more information, please visit www.facebook.com/HeroHQ.
(Developed by Silicon Knights for Xbox 360, PlayStation®3 system, and Wii; developed by Other Ocean for Nintendo DS™; not yet rated by the PEGI.)

Wappy Dog – The next evolution of virtual pets arrives on the Nintendo DS™ family of handheld systems this holiday season in Wappy Dog, a toy puppy that interacts with the player through the Nintendo DS.  Wappy Dog
engages young gamers to raise their very own puppy in both the real and virtual worlds and teach it cool tricks, play mini-games together and even converse!  Each pet is a fully personalised experience, enabling players to determine their pet's constantly evolving skills with every interaction and customise both the in-game version and physical dog with different colours and accessories.  For more information, please visit www.WappyDog.com. (Developed by SEGA TOYS for the Nintendo DS™; not yet rated by the PEGI.)
Activision welcomes all attendees to its demonstrations in Hall 6, Booth Number B20/30 at the following times –
Wednesday, August 17, 2011**
Thursday, August 18, 2011
Friday, August 19, 2011
Saturday, August 20, 2011
Sunday, August 21, 2011
9:00 a.m. – 7:00 p.m.
9:00 a.m. – 8:00 p.m.
9:00 a.m. – 8:00 p.m.
9:00 a.m. – 8:00 p.m.
9:00 a.m. – 6:00 p.m.

** Exclusive trade visitor and media day
For more information visit Activisions official site. For more information on the Call of Duty XP Tournament, visit the official page.