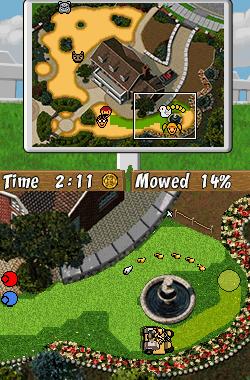 The very out there yet oddly charming Valet Parking 1989 hit the DSiWare earlier this year thanks to Zordix AB, and it looks like the dev team is out to repeat their success and…interesting ways to promote a game with the upcoming 1950s Lawn Mower Kids for the same platform. The main object of the game is simple, you must mow a lawn while avoiding obstacles and opponents such as "dogs, cats, ducks, and a menagerie of people lead by Angry Old Joe" and receive new contraptions to do your mowing duties thanks to "Mr Mowman".
While the concept is out there, I still am intrigued by the game as it sounds like a quirky title that is at least going to provide something original in the process and Zordix do seem to put their hearts into every project, so that is always a plus.
Now, that being said, Zordix also released a full list of features for 1950s Lawn Mower Kids which are listed below. They speak for themselves I'd say, so make sure you take them in slowly.
1950s Lawn Mower Kids releases September 1st on the DSiWare.
FEATURES
21 levels of hectic fun.
UFOs but no area 51
Angry dogs and evil cats
Bonus levels
"Game Over"-screen, oldstyle!
Tom: Uses his agility to avoid flying footballs.
Nancy: Her ride lawn mower scares the animals away.
Tim: Avoids scoldings with his winning smile.
Mr Mowman and his mysterious contraptions
Ducks in line
Music that sticks!
Angry Old Joe that hates kids.
A last bonus level that is possible to clear…we promise!