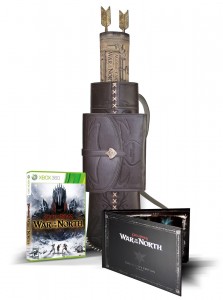 Hearing about a rather expensive Collector's Edition isn't anything unheard of. But usually the game that is receiving the expensive version is a game that has either been hotly anticipated or hyped extensively. Which means that the $130 CE of Lord of the Rings: War in the North is a bit puzzling to see come out of Warner Brothers.
The Collector's Edition will come with an art book, a behind the scenes DVD for the videogames music, three songs from the game, the game itself, and a Ranger of the North Quiver Case. It is easy to see that the quiver is the whole expensive part for the collection. Purchasers of the 360 version of the CE will receive a Ranger of the North Avatar outfit, while PS3 buyers will receive a War in the North Theme pack.
Besides the Collector's Edition, retail specific pre-order bonuses have been released for North America. Those who buy from Amazon.com will receive the second part of the War in the North digital comic and an in-game Orc Champion Sword. Those who buy from Best Buy will receive the Elf Theme Pack and access to the Lothlórien Challenge map. Those who pick up the game from GameStop will get the Human Theme Pack and access to the Osgiliath Challenge map. Target buyers will receive the soundtrack alone, while Toys 'R' Us will give buyers a War in the North poster signed by Jim Lee. Last we have Walmart, which gives players the Dwarf Theme Pack.