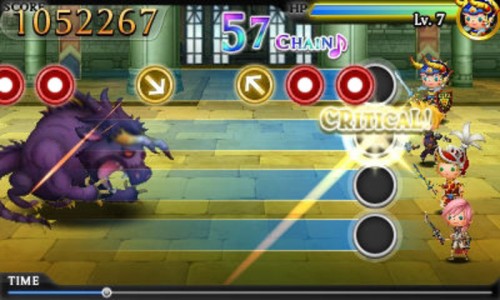 Last week we caught word from Jump Magazine that Square Enix had a unique Final Fantasy game they were going to soon reveal. Today is the day that they chose to reveal it by releasing a website for the game. Andrisang has translated the page and revealed that the game is being worked on by both Square Enix and developer Indies Zero and it will be a music game that will contain Chaos and Cosmos from Dissidia: Final Fantasy.
Theatrhythm: Final Fantasy will contain heroes from FFI to FFXIII and each game is considered an episode in the Theatrhythm that players will play through. The player will be able to make a party of four characters to advance through each episode in three stages, a field, battle and event stage. All of the stages are played as a music game with multiple difficulty levels.
The game itself will also draw upon the vast mount of music that has been created in the Final Fantasy series, including "One Winged Angel," "To Zanarkand," "Sunleth Waterscape" and more. Square Enix has yet to provide a release date for Japan, nor any new of a Western localization. Though any 3DS games being announced in development is always a good sign.