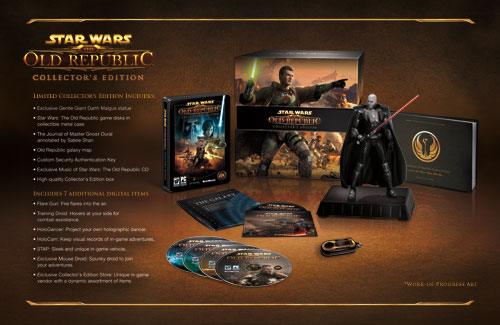 Earlier we announced the collectors edition and pre-order for the upcoming Star Wars MMORPG The Old Republic. In following that, we're going to tell you what the minimum specifications for the game are currently listed as being.
OS

Windows XP, Vista/7

CPU

AMD Athlon 64 X2 Dual-Core 4000+ or better · Intel Core 2 Duo Processor 2.0GHz or better

RAM

Windows XP: 1.5GB · Windows Vista and Windows 7: 2GB · PCs using a built-in graphical chipset, 2GB RAM recommended.

Video

ATI X1800 or better* · nVidia 7800 or better* · Intel 4100 Integrated Graphics or better*

DVD-ROM

8x or better
*Minimum of 256MB of on-board RAM and Shader 3.0 or better support.
As you can see from this list, the minimum specifications are quite modest and the game should be playable  on any game that has been built within the last 3-4 years. While there are no current listings for maximum settings I'd say that an Ati 4870HD or similar graphics card, 4gb of RAM, and a Quad-Core at 2.6ghz or higher. I will do an update if the Recommended specs are actually released, however.