Boy, oh boy, now this was a big one. This was the biggest SMASH! Convention thus far and needless to say it blew me away, there was so much amazing things going on and the guests all were brilliant. The convention as a whole was easily the best Australian con this year and perhaps in the past few years.
For those who are unaware, us crazy blokes and bladies (bladies = blokes +ladies) here at Capsule Computers were covering the event in a pretty in depth fashion. I was one of those covering the event, I was the guy cosplaying as that one guy in the background who raises his arms in the air to help Goku do the Spirit Bomb to defeat Buu. Yeah I was that random guy amongst every other person on the planet. In other words I wasn't cosplaying and you probably didn't notice me at all!
But you may have noticed our other awesome staff members cosplaying or just being all around good blokes, interviewing people and what not. I loved the way SMASH! handled media access with us being able to interview the guests as well and cover the event as well as enter at the price of a few articles on our site. All the staff was really friendly and it was just a great experience. Although I did hear from MasterAbbott that the Maid Cafe wasn't so friendly, but that's another thing altogether.
We also held a contest here at Capsule Computers, with the goal being to find Capsule Computers Editor-in-Chief MasterAbbott. Unfortunately no one found him, even his own staff struggled to get into contact on the day! We did however manage to snap a sneaky shot of MasterAbbott as he was lurking the vendors hall.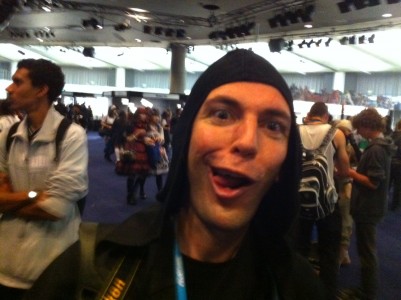 All in all I had a great day at the event, loved all the panels, loved all the cosplayers, loved all the vendors and loved covering all the news of the day for you all to see. I'm looking forward to next years SMASH without a doubt.