SMASH! brings artists from all over Australia to exhibit their creative works. It was great to have a chat with some of them to tell us about their work and their tips for all of you aspiring artists!
First up, we have the sleepy Kurimja!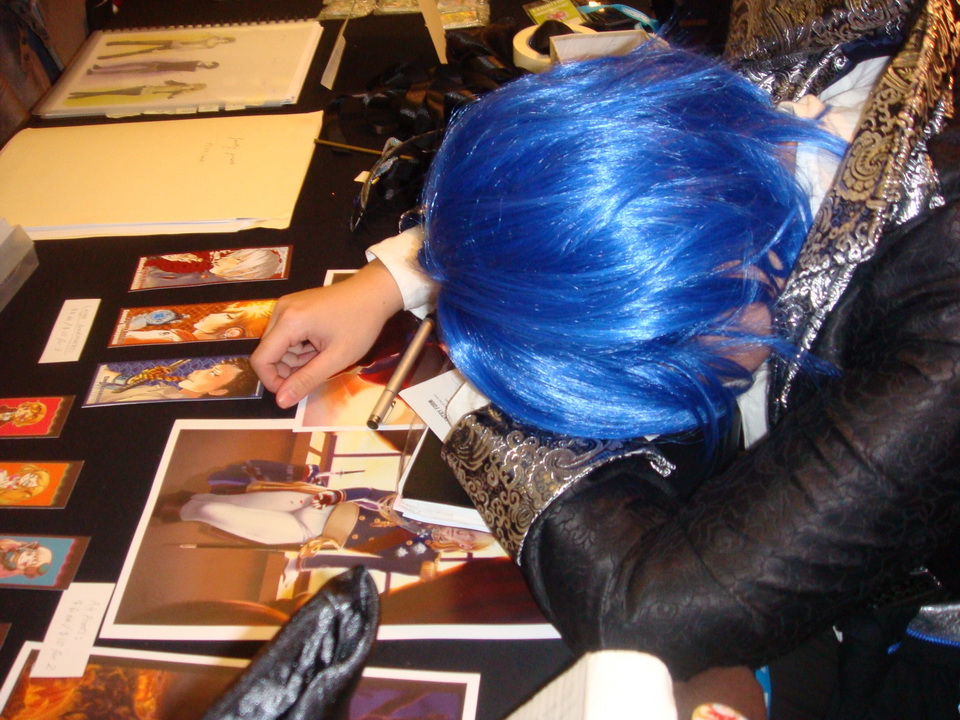 What can you tell us about your work?
I'm just an amateur freelance artist. I'm still in uni but I just do it for fun and I've been coming to smash pretty much since 2008 continuously so I'm quite fun of the con.
How long have you been doing this for?
Doing art?
Yep.
I've never actually studied it. It's just been a hobby of mine since as long as I can remember.
What made you want to do it?
It's fun! *laughs*
What are your influences?
It started off with mainly Japanese manga and anime and it shifted more to Korean online games and concept art – that kind of thing.
What are your tips for aspiring artists?
Always look around for influences – never stick to the how to draw manga books – they will not get you far. If possible try not to sneer at fandoms because there's a reason why those series get popular. If you just look at the art styles and stuff  the more intake you get, it doesn't matter if it's nouveau, art nouveau, or manga, you're still going to get lots of influence and in the end it's gonna help you a lot in developing as an artist.
Can you tell us about any future projects you're working on?
Me and my friend are planning to make an artbook slash recipe book where we're going to base concept characters on desserts and coffees and teas and the like, while including the recipes on how to make them for a little bit of fun.
And is there anything else you'd like to say?
Not in particular, no, I've been up since 5 in the morning so I'm a bit dead! *laughs*
I hope you had a good rest after the convention!  For more info on Kurimja, visit her website on www.kurimja.deviantart.com
–
Next is Elizabeth of Bloody Blue Rose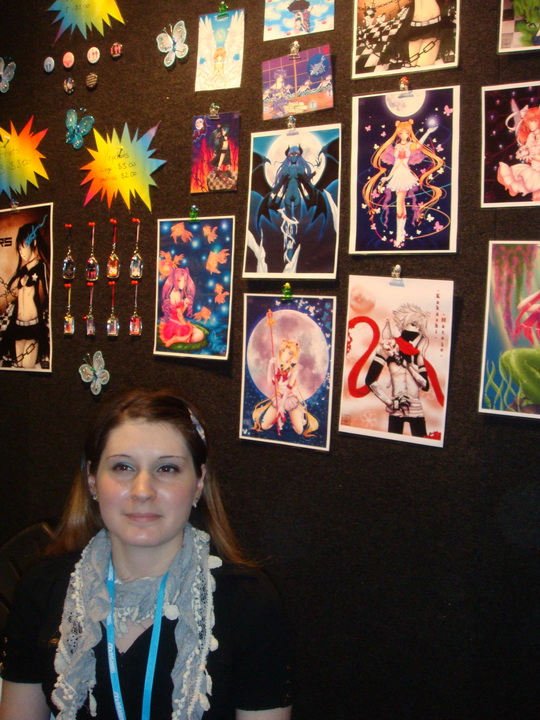 What can you tell us about your work Elizabeth?
It's not really work. I've never seen it as work. It's always been a hobby for me you know. It's something that I enjoy doing, and something that gives me freedom to express myself so it's not really work, it's just enjoyment, fun, that kind of thing. I guess it is work as well.
How long have you been doing this?
I think since I was fourteen. I started like sketching at fourteen but I didn't actually start properly CGing until 2007. That was actually funny enough the first year I actually did smash and had my first artist table and decided I need to improve and stuff. So yeah , I've been doing it for quite a while.
What media do you use?
I use mostly Photoshop CS5 for my digital CGing. For sketching, I sometimes sketch digitally or use my artbook.
What has inspired you to create artworks such as these?
A lot of things. I like to take inspirations from the world around me, from other artists, sometimes even from music as well. So, you get inspiration from a lot of places.
Can you give any specifics regarding influences?
A lot of deviant artists. I'm trying to think of all the ones, their names, their user names, but um… yeah usually a lot of like deviantart artists influence me like a lot of the ones that have really progressed to a certain stage where you see them and their art just really amazes you. Umm… other than that, sometimes a lot of nature areas coz I live near a park so there's a lot of nature areas there. Sometimes I go down there and you know sit down and just look around me, you know observe the nature, see how it looks, how it's formed in its natural surrounding and areas, yeah. Mostly from artists of deviant art and actually seeing physically with my own eyes.
And are there any future projects that you're working on?
Future projects… doing smash next year again! Not really at the moment, I did have a big calendar project but it's been put on hold for the moment because I've started school again so it's hard to get in enough hours of time to do like 24 pictures and still be able to study for school and stuff. So yeah, at the moment no projects.
Is there anything else you'd like to say?
I love smash!
We, here at Capsule Computers love SMASH! too!
Visit www.dragon-goddess.deviantart.com for more info on Elizabeth!
–
Now we have Dean, from Sasu, who came all the way from Melbourne just for SMASH!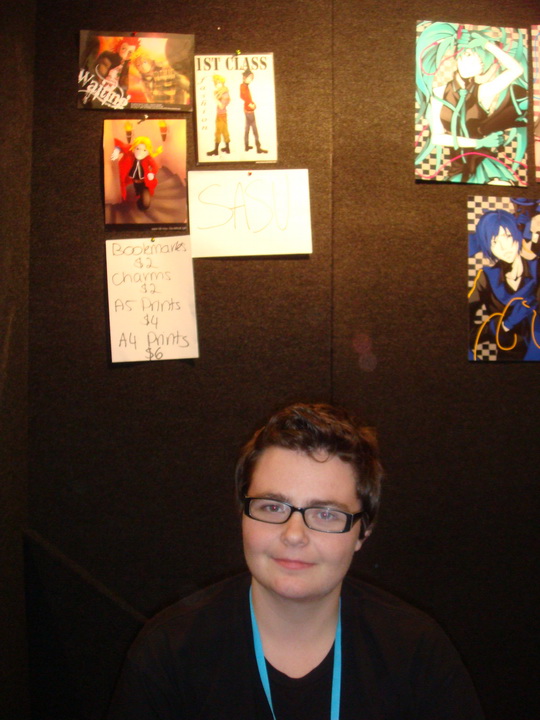 Would you be able to tell us about what Sasu does?
Just basically your fan art to sell and go to uni, that sort of thing. It's just a nickname, Sasu.
How long have you been doing this?
Selling, first year, drawing fan art maybe [for about] five or six years.
What got you into doing fan arts?
I've seen quite a few nice ones on DA [DeviantArt] and I just decided I want to share my love for series as well so I started drawing.
Is there anything particular, like fandoms that you like doing?
Kingdom Hearts, I like drawing a lot. Ao no Exorcist, that sort of thing. That's it.
Who are your influences?
A lot of DA artists like [simicon/simikun?], ZuZuMoo, doubleleaf; there's a whole list that influence me from DA.
Do you have any tips for aspiring artists?
Never give up, keep practicing. Just practice, practice, practice, and eventually you'll get to where you want to be.
Are there any projects that you'll be working on?
I'm working on a comic called Waiting. It's based on Kingdom Hearts, and I should be releasing the first volume early next year.
And out of your products which is like the best selling?
These bookmarks here, the Ao no Exorcist ones.
And is there anything that you'd like to say?
Not particularly *giggles*
Visit www.tehsasu.deviantart.com for more info on Dean
–
And lastly here's Jeremy from Red Ape
First of all Jeremy, what can you tell us about your work?
My work in general, um… it's pretty much, we do everything. From anime to storyboards, from you know for ad agencies, more on the realistic, less stylized side. We do a lot of 3D animation. So basically what we're at Red Ape is that we're a media boutique. We cater to anyone. Whatever you need, we'll be able to like manage for you. So if you guys want pictures for a storybook, we can draw it. If you want a 3D bear, we can work it off for you. If you want to do a commercial from us, so long as we get paid for it we'll be happy to do it.
How long have you been doing this?
I've been doing this for all my life. I started sketching ever since I was old enough to hold a pen. I started drawing anime when I was 13, but you know when you're in high school you don't really take this seriously enough for like being "alright I'll be doing this for the rest of my life". I took it seriously when I was 18 finishing high school being "alright now what am I gonna do for the rest of my life?". And I figured illustration is awesome. I have fun. I love doing the work that I do, might as well turn it into a career and here I am working at Red Ape.
How did you get into Red Apes?
Basically like any other job, you basically show your resume. My boss, I guess he has a keen eye for like talent. So you just basically got to be good at drawing, got a passion for it. Well I applied and here I am!
Who are your influences?
Well one of my influences is would have to be Musahashi Kishimoto, the author for Naruto. A lot of my work derives from his style. It's so awesome. I grew up reading the manga and watching the anime. Before that would have to be Akira Toriyama, like you know from Dragon Ball Z. Again I used to watch it with my dad so those two artists, they really come to mind whenever I think about anime and manga.
Do you have any tips for aspiring artists?
I'm gonna have to like be really blunt but basically if you're passionate about what you do, don't make excuses by procrastinating. If you're fully committed into like creating the best works of art, then do it, fully commit to it and don't make any excuses not to do it. Coz talent can only get you so far, it takes a lot of commitment and dedication.
Can you tell us about any future projects?
As for commercial stuff I'm not allowed to say that, we do have a confidentiality agreement but there is a lot of work to be done in regards to the ad agency. In regards to personal work, in about a month's time we'll be releasing an animation based on one of my comics that I'm selling for SMASH! It's called Battery Operated. If you go on to the site redape.com.au you can check it out in a month's time.
And is there anything else you'd like to say?
You guys rock!
–
Thanks Jeremy, we try our best to rock!
For more info on Red Ape and Jeremy's comic Battery Operated, visit www.redape.com.au
A huge thank you shout out to Kurimja, Elizabeth, Dean and Jeremy for taking the time to speak with me!