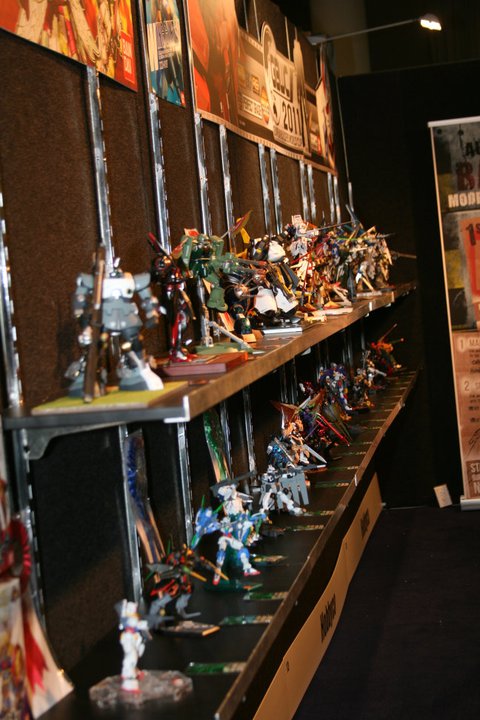 So many model kits… so much awesome…
Believe it or not folks, there is actually a World Cup for Model Kit Construction. This year at Sydney's SMASH! 2011, the model builders of Australia got to show off their skills by submitting their works to be admired and judged by a panel of model kit experts. Naturally, as they are the best known internationally, the model kits used The best efforts would be rewarded with prizes for 1st, 2nd and 3rd placements in an one of five categories with five 1st place prizes to be given out in total, two of which included a round trip to Hong Kong for the Bandai World Cup Finals. The categories were as follows: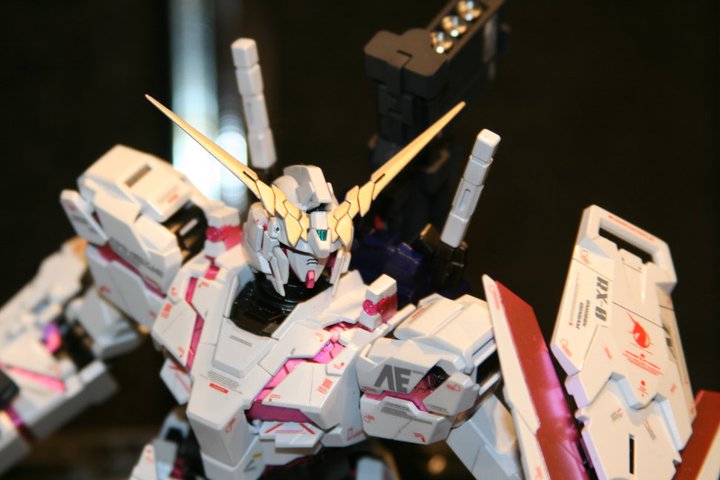 Close up of Unicorn Gundam 
Open Category:

The "anything goes" category which allows builders to fully customise their Gundams or mobile suits, include extra scratch built parts, and diorama construction for people over 15 years of age.

Junior Category:

The same as the open category, but for builders under 15 years of age.

Best BB/SD Gundam:

For the out-of-proportion model kits that are famous from the  Brave Battle Warriors anime series.

Best 1/144 High Grade:

For best construction of a stock standard model kit of 1/144 HG quality. Colour customisation allowed.

Best 1/100 No Grade/Master Grade:

For best construction of a stock standard model kit of 1/100 NG/MG quality. Colour customisation allowed.
A VERY cleverly customised Z'GOK built to look like a certain bear… 
Although the model kits were being shown off to critics and fellow model kit builders, there's no doubt that the builders would relish the opportunity to simply have their works shown off in a public forum such as the SMASH! convention. The layout of the competition display was VERY cool, and I would personally like to give all of those model builders a pat on the back for their hard work. Every single one of them that was displayed was a work of art. Kudos to you.
Ultimately, the competition was won in the Open Category by a VERY well customised 1/60 scale DOM mobile suit, from the original 'Mobile Suit Gundam' anime. Congradulations to the builder! Your victory was well earned.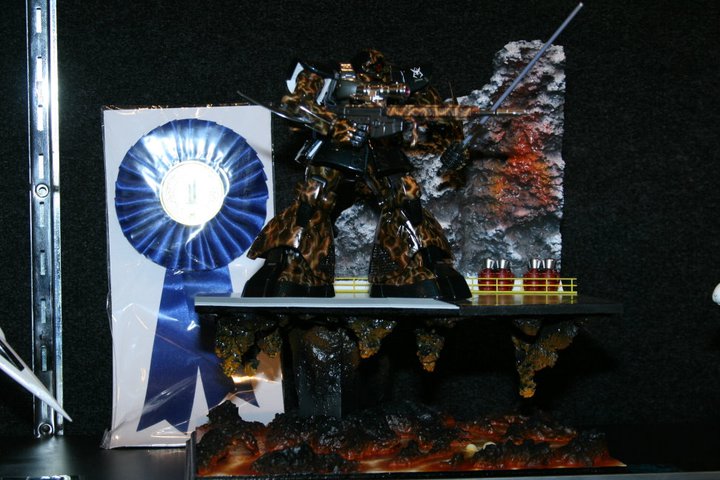 The winning DOM suit and diorama