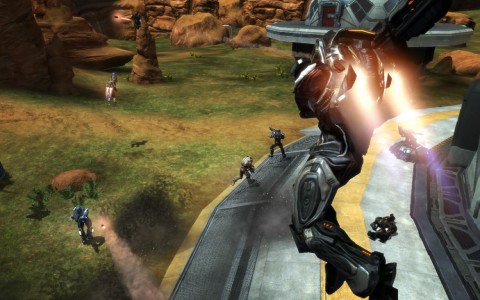 TimeGate's latest game, Section 8: Prejudice, is releasing some new map packs for the PC and Xbox Live Arcade.  Called the Frontier Colonies Map Pack, the DLC will cost a mere 320 Microsoft Points or $3.99.  Wth both online and offline play, includes two maps called Desolation and Overseer.  All game modes are playable on the map packs.
A new Skirmish game mode is also releasing on all systems for free later this month.  Skirmish is, at its most basic, a team deathmatch mode.  Except, victory points are awarded for kills and completed missions.  However, Control Points can not be captured or hacked in this game mode, so your tactics might have to be changed.
The PSN version of the game will release later this summer.  The Frontier Colonies Map Pack will be available on the XBLA and PC on July 13 and July 27, respectively.
As to how the game is breaking the unbreakable laws that surround us?  The game is "breaking numerous laws of physics to jam more content into what is already a ridiculously value-packed offering."  Sounds awesome.  Check out the official website here: warisprejudice.com