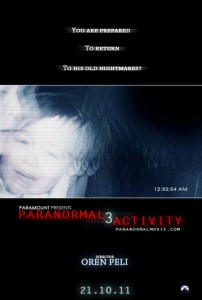 Because you couldn't get enough of the spooky cam-corder horror the first two times, Paranormal Activity 3 is on it's way to silver screens. This time however, there is a difference. Getting haunted this time is… the last two protagonists, getting haunted again, but as little kids!
My question is this, why after being haunted so many times do these people insist on filming essentially their entire lives (or atleast the parts where they get haunted, etc.)? We will without a doubt, maybe find out in the upcoming installment in what Paranormal Activity 3, which somehow is now a franchise it seems.
Check out the trailer below and prepare to be scared (kind of?)! What do you think of the next installment of Paranormal Activity? Leave a comment below letting us know.