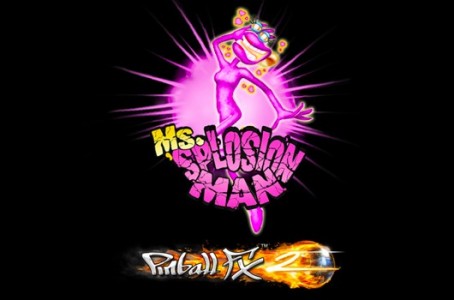 "When the Balls Touch They Splode."
And with that, Zen Studios and Twisted Pixel announced that they would be combining their excellent franchises.  A Ms. 'Splosion Man pinball table will be coming to Pinball FX2 very soon, although the exact release date was not announced.  In return, Twisted Pixel has robbed some Pinball FX2 assets and built a pinball table in an arcade area of Ms. 'Splosion Man, which releases on the 13 of this month.
"We told the Twisted Pixel crew we were going to break in and steal all the Ms. Splosion Man stuff so we could make a pinball table for them. We put our super stealth ZEN sniper on the project and what can I say, mission accomplished," boasts Mel Kirk, ZEN Studios Vice President of Marketing and Public Relations.
"Turns out, sploding is a GREAT mechanic on a pinball table and the evil geniuses at ZEN took the idea and ran with it!" explains Twisted Pixel CEO Michael Wilford. "As big fans of pinball in general, we proudly acknowledge ZEN Studios as the masters of virtual pinball. In Ms. Splosion Man there is an arcade room in the world map where players can find a virtual Pinball FX2 table where you can dive right into the hot XBLA pinball action directly."