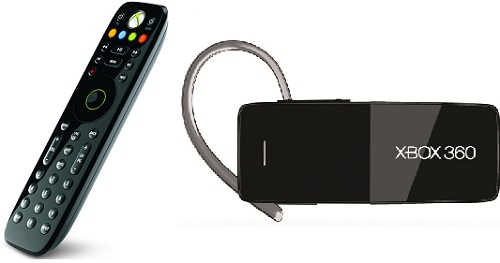 If you've ever played online for an extended period of time then you may notice that the original Xbox 360 headset is more or less a piece of plastic junk that can easily break. Now there is another headset available to the market which is the original Xbox 360 Wireless Headset which was also seen to be relatively bad. Also few, if any, people knew about the media remote you could purchase for the console.
Well Microsoft and Redmond will be releasing two new versions of these peripheras. The new Xbox 360 Wireless Headset will contain Bluetooth technology and be available in November of this year for $50. The Bluetooth will make the Xbox 360 Wireless Headset be able to work with devices that have Bluetooth support. Unfortunately the Xbox 360 doesn't have Bluetooth which means it will still use the normal radio frequencies.
The new Xbox 360 Media Remote will cost $20 and will match your shiny Xbox 360 slim. It also has a button for Live TV which will allow the user to access "Live TV, if provided on the Xbox 360 by your TV service provider, can also be controlled with the Xbox 360 Media Remote." This may be the Live TV service that was announced during E3, which means that this November release may also bring with it the Live TV service.