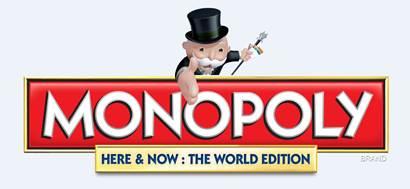 If you have any game platform whatsoever, I am sure you have seen one of the many versions of Monopoly in one form or another. Today, the famous board game is branching out yet again on the iPad with Monopoly Here & Now: The World Edition. This new version of the beloved board game brings about enhanced graphics, customizable house rules and a bevy of other new features to the mobile platform, and is now available in the AppStore.
Here is a rundown on features for Monopoly Here & Now: The World Edition:
FOUR PLAY MODES!
· Play Now – Play a game against the AI or your friends, with 4 levels of difficulty and a variety of House Rules
· Tabletop Mode – Play against up to 3 of your friends in the immersive digital equivalent of the classic board game experience
· Teacher Mode – Play a single player game against a new more realistic AI, and learn the basics of MONOPOLY through helpful hints and tips that appear throughout the game.
· Local Network Play – Play your friends with over WiFi or Bluetooth, up to 4 players total. Yes, it's backwards compatible with iPhone/iPod touch!
NEW DICE STATS CHART
See how often each number is rolled, in an individual game or over life of play on your device.
STUNNING VISUALS
Completely redesigned for iPad, with Elegant UI and Menu System, and Stunning HD Graphics!
ROCK YOUR iPAD
Listen & control your iTunes® Library while with friends and family.
ROLL WITH NEW MOVERS
Travel the world with international movers like the Nesting Doll or the Sumo Wrestler, or keep it green and
"GO" with the new Toyota Prius mover!
PLAY WITH OTHER iOS FRIENDS
Jump into a local multiplayer game with other iOS friends who have MONOPOLY® HERE & NOW™: The World Edition-
play from your iPad and connect with friends who have the iPhone or iPod Touch versions of the game.
MONOPOLISE FRIENDS & FAMILY IN TABLETOP MODE – AN iPAD EXCLUSIVE!
Play up to 3 other players in an immersive interactive equivalent of the classic board game. For example, the board stays put while the interface automatically rotates to face the current player – and that's just for starters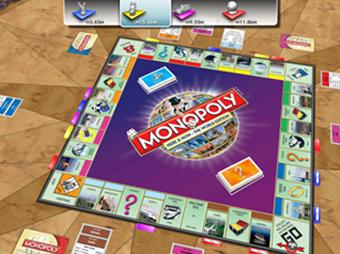 I have always been a fan of Monopoly myself, and while nothing quite beats the standard board game in my opinion, this new version certainly looks to provide yet another classic spin on the age old favorite (especially with the turning table top option, which sounds pretty awesome for those who care not to constantly spin the device). Monopoly Here & Now: The World Edition is now available for the device at a price of $9.99. Check out the official page for the game here.