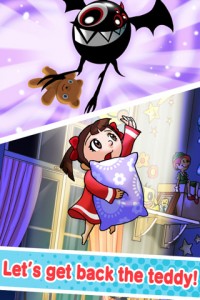 Out now on iOS systems, is Little Dreamer from Althi Inc. A platforming adventure game that takes you into the world of dreams on a quest to recover a little girl's Teddy Bear.
You play as a little girl named Amy, who whilst sleeping notices that her beloved Teddy Bear has been bearnapped! Amy grabs her trusty magical pillow and floats off to the dream world skies, chasing down a nasty bearnapping Cyclops Bat.
Althi Inc. are a japanese game developer, known also for their game Ninja Rescue. You can purchase Little Dreamer on iTunes here. Also be sure to check out the Little Dreamer facebook page here.
So what are you waiting for? You've got a Teddy to reclaim! Ride your magic pillow to the dream world, with Little Dreamer now.