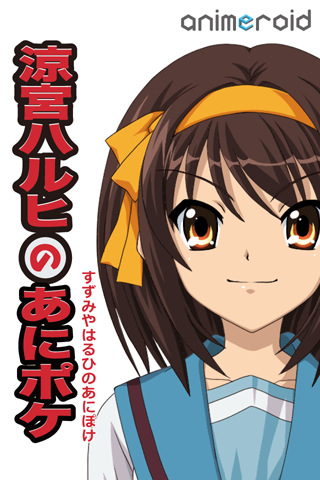 If you have been concerned over the lack of legitimate anime applications for your iPhone then you may find the following news somewhat pleasing. Kodakawa Shoten has released three apps to the United States iPhone App Store that were inspired by Haruhi Suzumiya.
The apps released were Haruhi's Anipoke (Haruhi Suzumiya), Mikuru's AniPoke (Mikuru Asahina) and a Nagato's AniPoke (Yuki Nagato). Now only the Haruhi's Anipoke is currently free at the moment as the other two AniPoke apps cost $.99 at the moment or will cost $3.99 after they go off of sale on August 31st.
The apps themselves will feature an alarm clock that users can set, then be woken up or alerted when said time has arrived by the character that they purchased. The app itself is still in Japanese which means that the menu is in Japanese and the characters also still speak Japanese with no English subtitles. The characters have a limited amount of dialogue which can be unlocked and played whenever they want to. Also the character's eyes will follow your finger around on the screen. You can pick up the Haruhi Anipoke here. If you choose to buy Mikiru or Nagato you can do so here and here.