16 HOURS TO GO BEFORE THE CREW IS DEPLOYED … ARE YOU ALL READY TO PLAY WITH THEM ??
Capsule Computers have just locked in a Xbox Live Community night event for Halo Reach.  The cool dudes over at Xbox Australia have confirmed and we are ready for deployment for 8pm to 12pm AUS EST on Friday 29th July. Remember, this is Australian Eastern Daylight Savings Time. Put this date in your diaries and also make sure you check the XBOX Community Dashboard (AU and NZ Dashboards only) for more details (shown below)
*NOTE this is open to all our community worldwide as long as you can get on and join us between 8pm-12pm AUS EST**
All you have to do before or during that time is message and send a friends request anyone of the following Capsule Crew members :- (gamertags in orange below)
MasterAbbott – Philip Federico
Discordman – Dustin Spencer
Marr 117 – Michael Marr
The Future Frog – Luke Halliday
Linkage Ayexe – Benjamin Web
We will add you to our friends list and then on the night we'll invite you into the game we are playing if there is room, if not, we will split off and create five separate rooms.  What we are thinking of doing is hosting some Private matches and we can change things around so we can get as many of the community in to play with us.  We are open to suggestions so if anyone has any great ideas on what maps or style of games we can play leave a comment below or send us a message via XBOX Live to our gamertags.
Just to give you a bit of an idea about what it will be like playing with the Capsule Computers crew check out the staff page here. We have a few hardcore GEEKS on the team so prepare to get owned!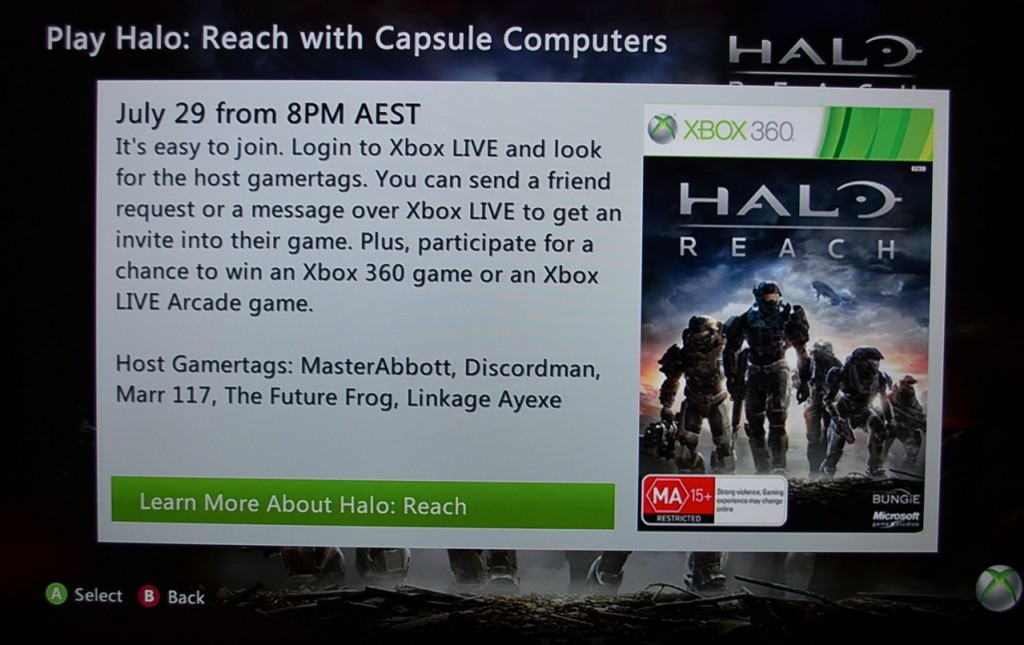 We will also have a few prizes to give away on the night, winners will be picked by the Capsule Crew, you don't have to be the best player to win a prize, as long as your having a great time and not acting like an idiot you'll have a good chance of winning.  For now we have a XBOX Retail game and hopefully a few XBLA codes to give away.  but we'll keep you posted if we manage to get more.
For now get on Xbox Live whack in your copy of Halo Reach and start practicing !! As your gonna need it !!  The Capsule Computers Team are ready to take you all down

If you have any questions leave a comment below.  We'll keep you all posted here as well as Twitter and Facebook.