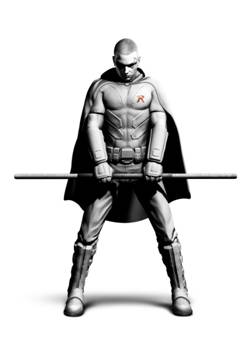 Australian fans of sidekicks rejoice, as JB Hi-Fi have announced exclusive rights to the Tim Drake Robin pack with any pre-order of the new epic title Batman- Arkham City. Warner Bros Australia and DC Entertainment have confirmed that Robin will be a fully fledged character standing on his own 2 feet, playable in all the new and vastly improved challenge modes within the game. The Tim Drake pack will be available to any Australian who pre-order the game on either PC, XBox360 or PS3 from JB Hi-fi.
Robin will be given the chance to stand out from the crowd with unique weapons and special abilities and will be playable throughout the challenge mode, as well as in the 2 extra challenge maps included in the pack; Black Mask Hideout and Freight Train escape. Robin also comes with his very own bonus Red skin.
Personally i cant wait for this one, it looks evil, malevolent and downright dark. With 5 times the space to commit crimes and cause mayhem and chaos, this highly anticipated sequel brings a new storyline to the table, complete with old foes, murderous villains and that classic gritty underground feel.