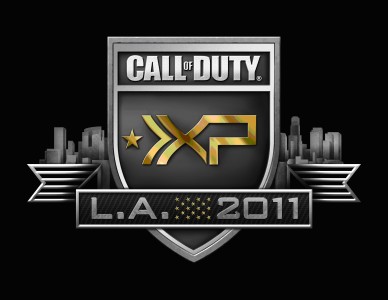 Have you spent countless hours playing Call of Duty only to have others tell you you're wasting your time? Well here is a chance to prove them and anyone else in the world who thinks simiarly wrong! Last week it was announced that there will be an inaugural 'Call of Duty XP' event in Los Angels on September 1-3 2011. As a result, Activision are holding a qualifying event to send a team of 4 talented Australian gamers to participate in this incredible global event, where countries will battle for the prize pool worth $1million!
On to the ever important details:
Where: Monash University, Building 60, Wellington Road, Clayton Campus, Melbourne  (Click here for more information)
When: Wednesday 13th July, 6.30pm for a 7pm start
Who: Any competitive Call of Duty players over the age of 18 (in teams of 4 people)
Why: To represent Australia in the world's biggest Call of Duty competition!
What: 32 teams will battle it out in single elimination rounds playing Call of Duty Black Ops in 'Search and Destroy' mode (with pre-determined load-out, for details see below) on the maps 'Havana' and 'Summit'. The competition will be held on Xbox 360.
Registration: Register via email to codxpau@activision.com in teams of 4 (4 players on one email) including name, address, phone, email, DOB for each team member and most importantly, TEAM NAME. Please note that this event is 'first in, first served' and once all 32 teams have been secured no additional players will be accepted. Teams will be notified via return email if they are successful. If there are any teams that forfeit prior to the start of the event, the next teams on the list will be contacted regarding registration.
Prize: As if participating in such a huge event wasn't enough, the victorious team will win an all expenses paid trip to LA to compete in the COD XP event. The prize includes flights, accommodation, transfers, meals and entry into the tournament. The winning team MUST be available to attend the event between August 31 and September 4.
It wouldn't be a game without rules. So here is the break down of some important rules for the tournament:
General Rules: The tournament will consist of 32 teams of 4. Competitors will play on independent screens with headphones. The tournament will be held as a single elimiation format.
General Game Settings: Hardcore Mode and Headshots Only will be disabled. Allow Killcam, Allow Sprint, and Friendly Fire will all be enabled. Max Health and Health Regen will be set to normal settings. There will be No Killstreaks and No Perks. Spectating will be team only and custom classes will be used and are outlined below.
Match Settings: The match type will be Search and Destory with a time limit per round of 1.5 minutes. Bomber timer will be 45 seconds, plant time will be 5 seconds and defuse time will be 5 seconds. Multi Bomb is disabled and round switch will occur every round. Players will only be given ONE life and round limit will be 4. The first to win 4 rounds wins the match with overtime at 3 all.
Players will be able to choose from the following 10 primary weapons:
MP5K
Skorpion
Uzi
Spectre
M16
M14
Ak47
Commando
Stakeout
L96A1
The Pre Determined Load out is as follows:
Secondary weapon: M1911;
Grenade: Frag;
Tactical: Smoke/Willy Pete;
Equipment: None;
Perks: None.
Maps: Maps will change per round featuring:
Round 1: Havana
Round 2: Summit
Quarter Finals: Havana
Semi-Finals: Summit
Finals: Both Havana and Summit
Make sure you register and show the world Austrlaian gamers have what it takes.