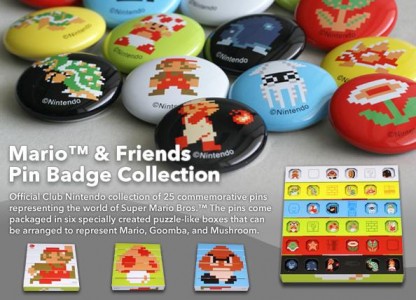 Today is July 1st in the states, and if you are a Club Nintendo member, this of course means it is now time to redeem a Gold or Platinum reward, depending on the number of points earned throughout the year. Last year, Platinum members were treated to a statue featuring the cast of Mario that honestly looked quite stunning while the Gold members got their usual Nintendo calender.
This year Gold members still will receive a calender, but those who achieved over 600 points are to be rewarded with a Mario & Friends Pin Set. When I first heard the term "pin set", I was expecting to see the limited Mario pins we seen last year. However, this set is made up of 25 small pins, each bearing 8-bit characters,enemies, and power-ups from the Mario universe. The set is broken up into 5 "puzzle like" boxes that make up quite a display piece when put together (as you see in the picture above).
If you are not yet a member of Club Nintendo, you can get registered over at club.nintendo.com. To earn points, all you need to do is simply enter in codes from your First Party Nintendo products (including systems), then simply do surveys for each item in which points automatically apply to your account. With those points, users can purchase Nintendo swag in the shop. Gold status is rewarded at 300 Nintendo points while Platinum is rewarded at 600. Every year on June 30th, if either status is reached, users can redeem their yearly reward. Since this is a new year, any codes entered as of today will apply to next year's rewards.
That about sums it up. Now get to redeeming and enjoying free stuff!