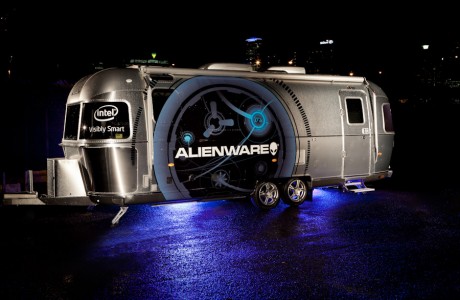 Keep an eye out for some kind of alien craft along the east coast in the coming weeks – Alienware are touring their tech to Sydney, Brisbane and Melbourne.
The Airstream vehicle – which looks suspiciously like a caravan – will be landing in Circular Quay, Sydney, from July 19-21, before moving on. The tour can be followed via Twitter (using the hashtag #AlienwareA52) to see where the Airstream is headed next.
Inside the van are several gaming desktops and notebooks, with all the whizz-bangedry you'd expect from Alienware.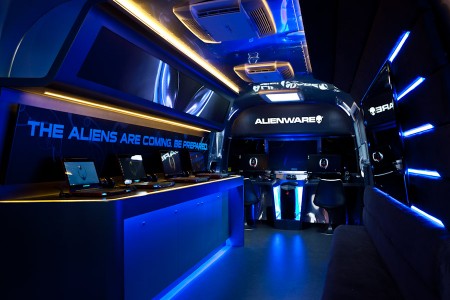 Last night's launch event in Melbourne fit Alienware's reputation – very flashy, demonstrating some impressive technology, but ultimately somewhat empty. I assumed there was a new product or announcement, but it seems all they had to announce was a new advertising campaign.
The event consisted of a "3D projection mapping" performance, which involved ten high-def projectors displaying images onto a semi-circular screen, as well as a blank caravan in the centre. With the screens displaying background images, the caravan was projected to look like the Airstream vehicle being built, before being sent through space and landing in the city. Guys with guns show up –guys actually in the studio, abseiling from the ceiling with toy guns – and sparks and flames shoot out of the Airstream. It was all very impressive and, as the PR guys liked to say, "immersive".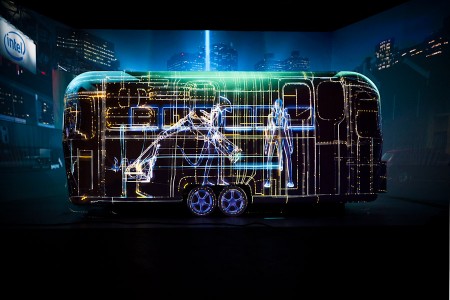 We were told the whole performance was done using Alienware computers, rendering over 50,000 HD frames over four weeks. A video of the event will be released via the Alienware Area 52 YouTube page on July 14, possibly featuring yours truly. There were cameras going around the venue throughout the evening, capturing my failed attempts at Shift 2: Unleashed and my less-failed Portal 2 session.
The event fit with Alienware's reputation as the sports cars of the custom PC world: a lot of horsepower on the inside, very flashy on the outside, and priced as a status symbol. Whether or not you think their machines are worth the tag, Alienware are determined to make a lasting impression.