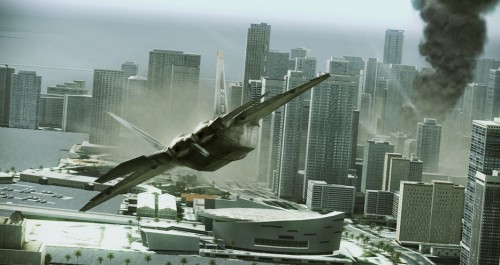 For players who pre-order the game Ace Combat Assault Horizon on the Xbox 360 and Playstation 3, they will be recieving a unique and exclusive aircraft for use in the game. It should also be noted that unlike most pre-order limited editions of games, this edition will cost the same as the non special editions, so make sure you pre-order for your chance to recieve these goods!
In addition to the F-4E Phantom II fighter players will recieve a folded box, a soundtrack, a notebook, the game and a cool card containing the code for the exclusive fighter. Personally, I'm looking forward to this game and the pre-order package does make it sound a lot more enticing and with the release date being the 13th of October this year, you'd better hurry and pre-order before they run out of stock.
Developed by the Project Aces team at NAMCO BANDAI Games Inc. in Japan, ACE COMBAT™ ASSAULT HORIZON brings a new intensity to the franchise, escalating combat to the next level with aircraft that are literally torn apart, spewing oil and debris across the sky. Players will engage in intense single player and online multiplayer combat over real world locations, dodging skyscrapers and turning enemies into fiery supersonic debris. Never before has combat been so fast and in-your-face.
Be sure to check out the Ace Combat website for more info and assets.