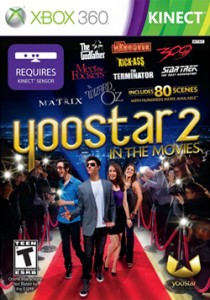 With summer season of movies fast approaching, a massive promotion for Yoostar 2's Xbox 360 community will put players in front of the camera and under the lights again to compete for cash prizes, at the same time utilising this year's summer films. The eight week contest, Acting With the Stars, will run from June 1 – July 26, 2011 and will award over $50,000 in prize money for the best interpretation of scenes taken from this summer's biggest blockbuster movies including Fast Five, Bridesmaids, Thor, King Fu Panda 2, Super 8, Transformers: Dark Side of the Moon and Captain America.
A free download of a scene from a new summer blockbuster will be available every Wednesday during the contest on Yoostar 2's in-game Yoostore, the Xbox Live Marketplace or on Xbox.com. The Yoostar 2 community can participate in the excitement by performing the scene using the on-screen teleprompter or improvising their own performance. They can then upload it to the Yoostar Playground contest page on Facebook where all their friends and family can view their performance. Each week, the top 20 most viewed clips will be judged by the official Yoostar Editorial Team and the best will win the $1,000.00 prize and be entered into the finals for the chance to win the grand prize of $50,000.
It sounds great and the promotion will provide even more scenes for your entertainment on Yoostar 2, which is never a bad thing. I'm sure it will be fun for all who get involved – even the judges job doesn't sound too taxing as I'm certain they'll see some funny clips. Your imagination is the limit!