Rockstar have made it no secret that many of the cases in L.A. Noire are, in fact, based on real life crimes from 1940s Los Angeles: for example, The Red Lipstick Murder homicide case took elements from the real life murder of Jeanne French. With that in mind, it should come as no surprise that the latest piece of DLC – the Nicholson Electroplating Disaster arson case, available on the 21st of June – is in fact inspired by a major crime back in the 1947 L.A.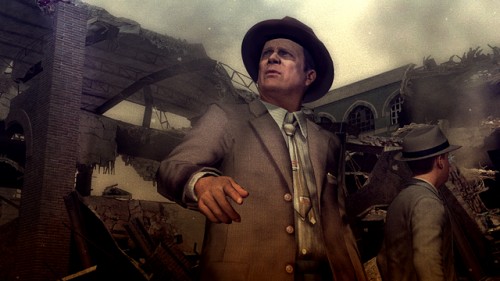 The crime in question is the explosion at the O'Connor Electro-plating plant on the morning of February 20th, 1947. More than 151 people were injured and 15 people were killed in the disaster, and one of the casualties would become the key suspect for the crime. Robert Magee, the plant's chief chemist, had obtained his position at O'Connor's plant following his great credentials (he had a PhD from M.I.T.) and his presentation of a new compound he had created: a blend of perchloric acid that could plate aluminium to gleam like silver without the expense of polishing and buffing.
However, after the blast occurred and Magee was long dead, some disturbing information surfaced: reports claimed he was, in fact, never a student at M.I.T…and the man hadn't even graduated from high school. His knowledge of chemistry was self-taught, and the dangerous formula was ultimately mishandled by Magee and his team. O'Connor was sued by blast victims and pleaded the fifth amendment during the inquest into the explosion.
But, of course, Rockstar and Team Bondi never take the cases at face value and the Nicholson Electroplating Disaster case holds even more twists and turns in the plot. The DLC is priced at $6.95 on PSN ($7.90NZD), 320 MS points, or free with the Rockstar Pass.