With all the new releases that are thrown out from the studios around the world, sometimes we become so overwhelmed that we forget the classics from the past. Luckily, though, Madman is reminding us: Madman has announced the arrival of a Cartoon Network original show, The Life and Times of Juniper Lee Season One, on DVD in August.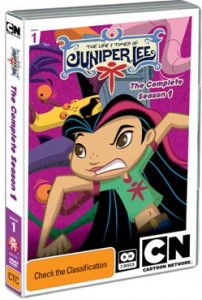 The show is from Cartoon Network's original set of animations, including other great titles like Courage the Cowardly Dog and Johnny Bravo. The plot follows Juniper Lee, a pre-teen girl who lives in Orchid Bay City. The city houses magic, monsters, and demons, and Juniper was made the protector of the balance between the human and magic worlds. But saving the day isn't easy, and Juniper often finds that her powers and duties get in the way of her personal life.
The Life and Times of Juniper Lee is being released on DVD on the 17th of August, 2011 and retails at $24.95. Check out Madman's site here for more information.