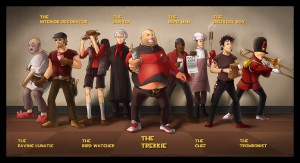 As the title suggests, popular PC shooter released by Valve over their Steam delivery platform has recently become free-to-play. That means that players will no longer need to buy the game at $20AU in order to start playing.
Check out the games new quotations!
About the Game

"The most fun you can have online" – PC Gamer
Is now FREE!
There's no catch! Play as much as you want, as long as you like!

The world's #1 war-themed hat simulator!
One of the most popular online action games of all time, Team Fortress 2 delivers constant free updates—new game modes, maps, equipment and, most importantly, hats. Nine distinct classes provide a broad range of tactical abilities and personalities, and lend themselves to a variety of player skills.

New to TF? Don't sweat it!
No matter what your style and experience, we've got a character for you. Detailed training and offline practice modes will help you hone your skills before jumping into one of TF2's many game modes, including Capture the Flag, Control Point, Payload, Arena, King of the Hill and more.

Make a character your own!
There are hundreds of weapons, hats and more to collect, craft, buy and trade. Tweak your favorite class to suit your gameplay style and personal taste. You don't need to pay to win—virtually all of the items in the Mann Co. Store can also be found in-game.
It's likely that the reason for the game now becoming Free-to-play is the opening of their in-game store, but apparently players can also earn the items found in the store in-game. This is great news for everyone!
Make sure you check out the Free-to-Play FAQ.