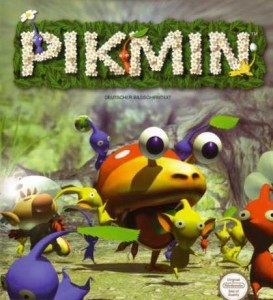 I waited eagerly during Nintendo's press conference for any news about a new Pikmin title, which has been hinted at and rumoured for years. No news on that front came during the public event, and although I was slightly disappointed, there was more than enough exciting news to make up for it.
But during the developer roundtable event afterwards, Shigeru Miyamoto showed that there was still life in the rumours.
Miyamoto stated that he had hoped for the Wii version of the game, apparently in development for years, to be released this year to coincide with the tenth anniversary of the series. Unfortunately, it doesn't look like the little vegetable things will ever see light on the Wii, beyond the updated ports of the GameCube versions of Pikmin and Pikmin 2.
Instead he announced, somewhat unofficially, that the project was moving over to the Wii U. Gamespot quotes Miyamoto as saying, "since we've been working on Pikmin for the Wii for a while, maybe it won't be too long before we see it on Wii U."
Let's hope this doesn't fade into limbo, where the Wii Pikmin project has been floating for years. We'll keep an ear to the ground on this one, and hopefully we'll have some solid news to report soon.