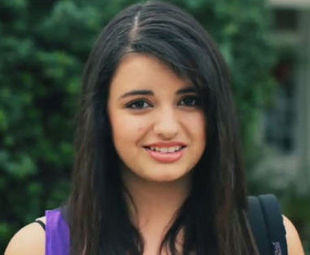 The world of internet memes and viral videos has been a crazy one this week! Thirteen year old singer Rebecca Black has once again been dominating headlines, with the controversy arising over the ownership of her viral music video 'Friday'  resulting the video being taken down entirely. The song has collectively got over 165 million views and became a Meme overnight, being called by many 'the worst song ever'. Recently her label Ark Music factory decided to make the video a Youtube Rental, meaning fans would need to pay a $2.99 to watch the video, causing some bad publicity for the artist. Black and her Lawyers decided to file a copyright infringement notice to Youtube, and lead to them pulling it off the site altogether.
Apparently the contract gave all rights to the song to Black, although the label Ark Music factory seems to disagree. The contract also gave ownership of the master to Rebecca Black, although she is still yet to receive it. So when Ark decided to start charging people for it's views, Black and her team decided to get it removed all together. This caused anger amongst her fans and viewers, leading her to tweet the following:
"Thanks for all the messages regarding the $2.99 fee added to Friday video, I have NOTHING to do with this!!….PS…My Manager and Lawyer are on this and are going to get to the bottom of this! Stay tuned…" –Rebecca Black
Ark Music Factory have also released a statement explaining how they were upset with her decision to get the video pulled from Youtube.
"We're disappointed, having been in good faith negotiations with Rebecca Black and her representatives for months regarding any open issues," an Ark Music representative said.  "There's been an ongoing, open dialogue with our company.  So we were blindsided to get a Take Down Notice—with no notice–alleging copyright infringement instead of a call or email from Rebecca's representatives.

"Our use of the video has fully been authorized (as evidenced by four uninterrupted months and 160million-plus viewings without objection) by both Ms. Black and the copyright holder.  Regardless, we are going to continue to take the high road and work out the complaint as soon as possible so that the million-plus people who watch Friday for free each day can continue to enjoy the video." –Ark Music Factory
Yesterday the music video mysteriously returned to YouTube. It appeared on page that claimed to be Rebecca's official VEVO account. Soon after though, the video was taken down because "the YouTube account associated with this video has been terminated due to multiple or severe violations."
The music video is was the 22nd most watched video on Youtube before being taken down. The future of the video is unknown, but one thing is for certain: today is Saturday, and Sunday comes afterwards.