Ubisoft's upcoming music rhythm game 'Rocksmith' has today unveiled some new tracks that players will be able to perform in the game. Unlike other similar music rhythm games such as Guitar Hero and Rock Band, Rocksmith actually teaches you how to play the guitar with an actual real life guitar.
No more fake plastic controllers with large buttons on the end, any real guitar with a standard quarter-inch input jack can be used in the game. Rocksmith itself features dynamic gameplay that automatically adjusts to a player's skill level, so even players who have never touched a guitar in their life can easily pick up this game.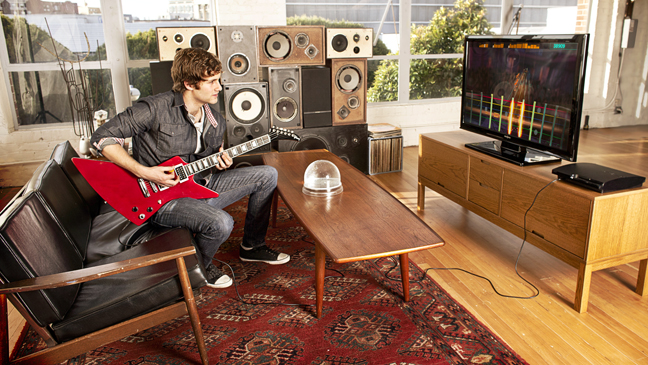 New artists and songs included in the game:
Best Coast – When I'm With You
Blur – Song 2
The Black Keys – Next Girl
The Boxer Rebellion – Step Out Of The Car
Cream – Sunshine Of Your Love
The Cribs – We Share The Same Skies
The Cure – Boys Don't Cry
Jenny O – Well OK Honey
Lynyrd Skynyrd – Sweet Home Alabama
Nirvana – Breed
Pixies – Where Is My Mind?
Radiohead – High and Dry
Red Fang – Number Thirteen
The Rolling Stones – The Spider and the Fly
Silversun Pickups – Panic Switch
Soundgarden – Outshined
Spoon – Me and The Bean
Stone Temple Pilots – Vasoline
Taddy Porter – Mean Bitch
Titus Andronicus – A More Perfect Union
White Denim – Burnished
The White Stripes – Icky Thump
Yellow Moon Band – Chimney
The Animals – House of the Rising Sun
The Black Keys – I Got Mine
David Bowie – Rebel Rebel
Interpol – Slow Hands
Nirvana – In Bloom
The Rolling Stones – (I Can't Get No) Satisfaction
Rocksmith is set to be released in Fall 2011 for Xbox 360, Playstation 3 and PC for $79.99.  Each copy of the game includes the unique quarter-inch to USB cable which is required to play the game.
Stay tuned for more information on Rocksmith to come at this year's E3, in the meantime check out Rocksmith on their facebook page