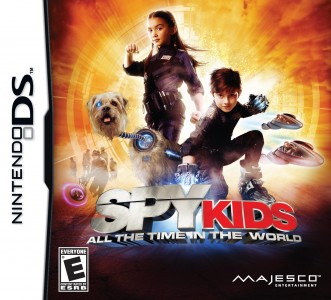 If you didn't know already, a 4th Spy Kids movie is on the way later this summer by the name of "Spy Kids: All the Time in the World". Being a movie targeted at a younger audience, there also will be a video game tie-in that Majesco will be publishing for the Nintendo DS. I honestly can't say I'm very up to date with the movie franchise for Spy Kids as I only seen the first one years ago, but thankfully Majesco have elaborated on the plot for the new game (which will follow the theatrical release) as well as the features for this new DS title.
Retired super spy Marissa Cortez Wilson (Jessica Alba) has faced many challenges in her career, but trying to mother her two stepchildren, Rebecca (Rowan Blanchard) and Cecil (Mason Cook), with her new husband Wilbur (Joel McHale) is proving to be her toughest job yet. But when the maniacal Timekeeper (Jeremy Piven) threatens to take over the planet, she's called back into action by the head of OSS, home of the greatest spies and where the now-defunct Spy Kids division was created. With Armageddon quickly approaching, Rebecca and Cecil are thrust into action when they learn their boring stepmom was once a top agent. With a little help from a couple of very familiar Spy Kids, Carmen (Alexa Vega) and Juni Cortez (Daryl Sabara), and some mind-blowing gadgets, they just may be able to save the world and possibly bring their family together while they're at it.
In Spy Kids: All the Time in the World the video game, players will step into the shoes of the newest Spy Kids, Rebecca and Cecil, as they race against the clock in this all out platforming adventure. The Timekeeper is threatening to take over the planet and it's up to you to stop him from realizing his evil scheme. Utilize the coolest new hi-tech spy gear to take out swarms of enemies and solve puzzles that stand in your way. The clock is ticking, so gear up and reinvigorate the Spy Kids division for a new generation!
Features are set to include:
Eight levels full of baddies and traps, including: Downtown, OSS Base, OSS Vault, Big Time Watch Repair Shop, and Time Keeper's Lair
Play as either Rebecca or Cecil, each with special skills
Master state-of-the-art gadgets to fend off enemies and find hidden goodies
Navigate environmental puzzles like quicksand, conveyer belts, air vents, slick surfaces, and more
Earn special attacks, such as Double Speed Attack, Attack Power-up, Mega Super Power Boom, Blue Cheese Bomb, and more
Judging from the screenshots released (which you can view below), Spy Kids: All the Time in the World looks to be a 2D platformer of sorts that resembles OneNineStudios' other release, Ben 10: Alien Force. Spy Kids: All the Time in the World is set to launch this August for the Nintendo DS.