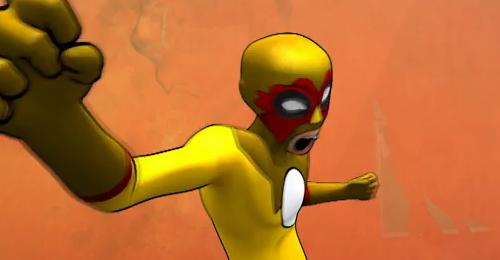 You ready for some Luchadores, ese? Today marks the debut of Lucha Fury on the Xbox Live Arcade and for those who have not heard of this one before, it is a beat-em up in which up to four players can battle the gods themselves to save their precious energy drink…and the world of course.
Features for Lucha Fury Include:
Four distinctive player-controlled luchadores, each with their own special moves
Dozens of unique moves and combos that feature a mix of traditional fighting style (punch/kick/grab) and wild Lucha inspired moves (Planchas, Submissions, Aerials, etc.)
Highly detailed and colorful, comic-style animation
Intuitive controls that allow for fighting-game style moves and combos
Up to four-player cooperative play

This game seems to be quite a quirky take on the sport as well as the beat-em up franchise, and from the looks of the trailer (which you can watch below), this adventure looks to be a comical one. Lucha Fury is now available on the Xbox Live Arcade for 800 points, a decent price for what could very well be a heavy contender for Castle Crashers. For even more information, check out the official Facebook page for the game at http://facebook.com/luchafury.