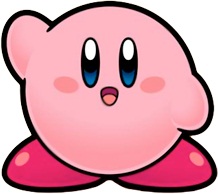 The adorable pink blob Kirby is returning to Wii on 23rd June, 2011, as part of his own dedicated TV Channel. The Kirby TV Channel will be available across much of Europe, as well as in Australia and New Zealand, as a completely free download that will feature TV shows staring Kirby as he battles King Dedede in Dream Land.
The channel will allow you to view over 50 Kirby episodes that will be updated twice a week over a six month period. Every week, two new episodes will become available – one on a Monday and one on a Thursday. The episodes will be available to view for two weeks before being archived to make way for new episodes. Fans of Kirby will be able to check the programming schedule just like a real TV channel and choose from four streaming episodes at a time.
The Kirby TV Channel will be available to fans in the UK, Germany, France, Italy, Netherlands, Belgium, Ireland, Greece, Luxembourg, Switzerland, Austria, Denmark, Sweden, Norway, Finland, Australia and New Zealand. Most episodes will be available in English, German, French and Italian with only a few exceptions.
I will definitely be checking this out. Is anyone else excited?