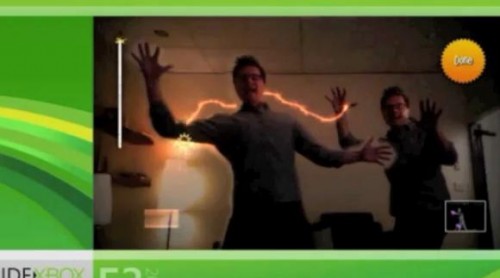 We still are about an hour away from the Microsoft conference, but new leaks are already starting to give us a glimpse of what will be shown and announced. The latest is Kinect Fun Labs, which will host several mini-games that all utilize the Kinect sensor. With the leak also comes a new video, revealing four of the mini-games (or "gadgets" )might be available as early as tonight.
The first detailed is "Build a Buddy", an application that allows you to scan an object and then play with it using the motion controls. Next up is "Googly Eyes", and as it sounds players will literally be able to tack on Googly Eyes onto objects. "Kinect Me" is another game shown in the video, letting the user do a face & body scan to completely re-design their avatar. Speaking of avatar apps, "Bobblehead" does as promised an turns your created avatar into an interactive bobblehead.
The gadget I am most curious about though is the finger-tracking "Kinect Sparklers". With Sparklers, the sensor snaps a photo of the player, shoots a background image, and then allows players to use their finger to draw around their image from different angles.
A sharing service is also detailed, allowing for other users to share their videos and activity with the gadgets in the Kinect Fun Labs Hub. Check out the full video below for a better view of all this in action and if the rumors are indeed true, Kinect Labs might indeed be launching tonight. Stay tuned as we are sure a reveal is just hours away.